Our current read aloud novel is a biography of the amazing Helen Keller.  She has inspired so many by overcoming odds stacked steeply against her to not only live life but live life well.  Helen Keller was born "normal."  She was born a child with perfect vision and hearing.  Very early in life she became ill and a fever caused brain swelling that took away her sense of sight and hearing.  For a long time she was trapped in a dark, scary, tricky world.  Her parents were able to secure a teacher for her, Annie Sullivan, who unlocked the door to Helen's world and the rest as they say is history.  Her story has so inspired a few of my students that they wrote the rest of my blog entry for me!  Meet our guest bloggers!
Julianna  is very intrigued by Helen Keller's story and infact has begun reading her own Helen Keller book at home.
I like the book about Helen Keller because I like learning how she learned how to speak.  I like to see how Annie came up with ways to teach Helen.  I have read about 5 books about Helen Keller.  I have always loved learning about how she learned to do everything she could do.
Tykia shares Julianna's admiration for Helen Keller and composed the following blog entry: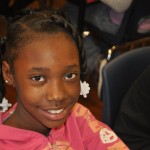 I like Helen Keller because she's amazing!  She was deaf and blind.  I feel so bad for her.  Then she learned to speak.  Helen Keller is an awesome girl.  She was blind and deaf and couldn't talk, but then she learned how to talk.  She is amazing!
Angelita agrees with the other ladies that Helen is simply amazing!
I like Helen Keller because she is interesting to me.  Helen amazes me how she learned to speak.  When she speaks it is not clear, but you can understand her.  She uses her hand to feel what the other person is talking about.  She smiles and makes feelings with her face.  Helen is a great and famous person to learn about. 
We watched the following clip today when we reached the part in her biography where she has learned to speak:
We have had many discussions in class about acceptance of others.  One of my cousins posted a link to an amazing video about the power our words have.  Please take a minute to watch it and speak to your kids about acceptance, bullying, and thoughtful words.