Back in November, I wrote a grant for my class to receive 5 iPad Minis.  It was approved and we were ridiculously happy when they were delivered!  We love technology in our classroom, but I am a stickler for ensuring that it is used as an educational toy and not an expensive hi-tech busy work option.  That being said, when our iPads were delivered I carefully selected some apps to get us started.  Many were apps we were already familiar with from the days when I would gather my own personal tablets from our home and bring them in to share with my class.  A few were new and required some learning and getting used to before we could successfully navigate them. 
By far my favorite new app is Splash Math, specifically Grade 4 Splash Math.  While this app is
pricey for the iPad at $9.99 it is well worth it for all it delivers.  There is also an iPhone version slightly less expensive at $4.99.  Splash Math allows students to create an avatar, save, track, and email work results to parents/teachers, and work on skills that need remediation based on parent or teacher recommendations.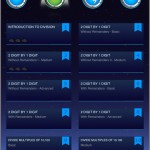 Set up is easy.  Once the student selected their avatar, I input my email address to have weekly
progress reports sent to me.  After that was done students are given the option to practice or play games.  Here is the kicker though- they have to practice before they can get to a game level. 
Parents and teachers can assign homework assignments through this app that require the student to work on specific skills before allowing them to work on other areas.  In addition to
this all of the skills are also linked to the Common Core State Standards.
This app provides a large amount of data and meaningful practice for students both at home and during school hours.  I use it during math centers to either remediate skills that we have moved on from but still need work or for my advanced students as a way to challenge them with current or new material.  At any time by pressing on the Control Center button, you can get a graph to show the areas the student has been working on, recommendations for areas needing work, and number of problems answered correctly vs. number attempted.  In addition to this
information, you can also get an idea as to what grade level the student is currently working at by switching to the grade level screen at the top. 
Overall, I'd have to give this app an overwhelming A++++ for ease of use, student engagement, academic content, and data generated.  Way to go StudyPad!
Another app we use on a daily basis is the Barnes and Noble Nook app.  This app is free to install.  Once installed you can purchase books through the Barnes and Noble website and have them downloaded to the iPads or iPhones.  While time spent reading alone is a great benefit for this app, the real treasure lies in the ability to embed questions into the text.  For any given text, teachers can highlight a keyword and then add a note, questions,
prompt, etc for the student to respond to.  This is a wonderful way to model and encourage active reading skills.  Often I will post a note that is just an insight I picked up on while reading that section and encourage students to journal about insights they have had.  Other times, I may highlight a vocabulary word or pose an open ended question I would like answered for that section of the novel. 
Finally, the last app for this spotlight is actually a collection of apps created by Harper Collins Publishers entitled C.Collins Big Cat Story Creators.  These apps provide a model text that students can either read themselves or listen to along with an opportunity to create their own versions of the story using rich graphics and text options.  Once done, they can record themselves reading their new book they've written and play it back for others to hear.  This hits so many standards it's unreal!  In addition to hitting
standards, students love listening to and then creating their own stories using this modeled text.