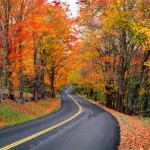 Happy Fall!  I love this time of year!  Cooler temperatures, back to routines, leaves changing colors, and of course a reason to buy new boots are some of the reasons this is one of my favorite times of the year!  We are continuting on our journey through 4th grade this week.  We will be hosting the Basic Skills Teachers on Tuesday as they conduct Sweeps testing.  This testing is one of the criteria we use to identify and create plans for students who may be struggling in either math or language arts.  We will also be wrapping up our 2nd math unit this week.  Please take a few minutes to take a peek at our learning goals for this week and the attached videos/presentations to help your child prepare for class.  You may also access any of the videos used on this site in the archives to the right.
Math:
Monday and Tuesday- Students will be using place value skills to order and compare numbers.  Lesson 3-4 and 3-5
Wednesday- Students will be using organized lists to help them keep track of information as they solve problems. Lesson 3-6
Thursday- Topic 3 Test
Friday- Students will be using mental math strategies to help them solve addition and subtraction problems.  Lesson 4-1 and 4-2
Lanugage Arts:
We will be working on putting the events of a story in the correct sequence this week.  In addition to that goal we will be working on writing our autobiographies (thanks for helping your child fill out the packet and returning it!).  As a way to make our writing better we will be working on adding figurative language .  Our goal is to include similies and metaphors to make our writing pop.