This month we are finally becoming "real" 3rd graders!  We've finished with our reviews and are really diving into learning on a 3rd grade level.  I tell my students each year that one benefit to having me as a teacher is I've taught every grade from 3-7 so I know where they need to be and will work hard each year to get them ready for the next!
In October we are working on adding and subtracting larger numbers involving regrouping.  My students are doing VERY well with this!  In fact some love it so much that they are practicing on the playground at lunch!  Those of you reading this who are teachers will understand who awesome it is to see this type of thing!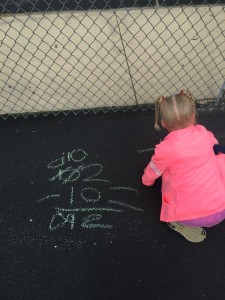 We are also working with reading different types of texts and digging through them to identify key information.  A few strategies we are using are highlighting, underlining, and using the margins for note-taking.  We read a tough piece about clouds during science and employed all three strategies to make sure we were able to locate all of the important information.  We then placed our marked up article in our interactive science notebooks so that we could reference it during the remainder of our weather unit.
As we grow as students, we need to update our word choice in writing.  We decided since October is a rather spooky month, what better time to put some of our over-used words to bed!  We created a cemetery for over-used words and used a thesaurus to help us come up with some better options.  Students really enjoyed laying our "boring" words to rest and are excited about using our "big kid" choices in the future!
Finally, in addition to our many awesome learning opportunities, we are also celebrating Red Ribbon Week and our Week of Respect.  During this week we work together as a class to make promises not to bully and make healthy choices.  We will be wearing different colors each day this week to represent promises we are making to ourselves and our friends.
Monday- Wear Black to show you won't stand back when someone is getting bullied
Tuesday- Wear Red to get the word spread- NO DRUGS FOR ME!
Wednesday- Wear Blue to represent a friend who is true
Thursday- Wear Green to show support for those working to keep the world clean!
Friday- Wear Pink to show that you will think of ways to respect yourself and others
Looking ahead to the end of the month here is a list of events to participate in:
Friday, October 30- Halloween Frolic
Now until October 30- send in word finds, crossword puzzles, and suduku books to be donated to those receiving treatment for cancer
November 3- Color Run- More information to follow!  Let me tell you, I just complete a color run at my daughter's school and it was a BLAST!!!!! This is an event not to miss!