The month of December is often one that is crazy busy for most people.  It is no different here in Room 11!  The only difference is instead of hitting the crowds and shopping, we are creating, writing, crafting, coding, and working hard each day.  We started off this month by publishing our first official writing piece.  Students worked hard to write about a time they lent a helping hand to someone.  They then met with other students to peer edit their work, met with me to finalize changes that needed to be made, and finally used Microsoft OneDrive to type and share their documents with me.  We are officially authors!
After we finished publishing, we set out to travel the world and learn about how holidays are celebrated in other countries.  We are learning about their traditions, foods, songs, and languages.  For each country we visit, we locate it on our map, learn how to say Merry Christmas (or other holiday greetings), and listen to holiday music in their native language.  We were fortunate enough to have a FaceTime with my sister-in-law, Mrs. Phifer, who shared how Christmas is celebrated in Germany.  She read us a story in German, answered our questions, and shared many of her favorite German holiday traditions with us.  Check out the video she made for us to remember our chat:
We also did some creative writing and crafting to help decorate our classroom and hallway for the holidays.  While it may all look like fun and games, there was a lot of measuring, writing, proof-reading, and cooperative work going on to create our own Holiday wonderland!
On December 8th, we participated in the Hour of Code.  This yearly coding challenge was created to have students experience working with code (the language of the computer) and learn about careers in the field of computer sciences.  This year my students worked on coding Starwars, Minecraft, Anna and Elsa from Frozen, Disney Infinity, and Flappy Birds.  Students had to use code to create a pattern for their character to move through a maze or complete a task.  They worked on all forms of devices- laptops, desktops, and Ipads.  Check out the link and try it yourself!  It really is a lot of fun and can be modified to challenge even the most experienced coders I know!  Hour of Code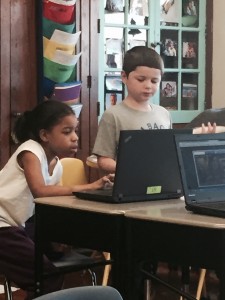 To finish out our week we will be visiting Spain, Mexico, Sweden, France, Ireland, Poland, and Finland to learn about their traditions.  We will be wrapping up Unit 2 in our Reading series on Friday.  In math we will beginning to explore the idea of division.  We are also preparing for our Holiday Concert on December 14th.