In what is feeling like the dregs of a never-ending winter, we find ourselves faced with another formidable opponent- PARCC.  I am a huge Game of Thrones fan and can't help but at times feel like we are the residents of The Land of the Long Summer preparing ourselves for the winter that is coming according to those who reign in the North.  PARCC is our winter.  Just as in Game of Thrones, however, we can look at this as an opportunity to realign ourselves with new opportunities rather than feel doomed.
What exactly is PARCC?
PARCC stands for the Partnership for Assessment of Readiness for College and Careers.  When stated like that it doesn't sound so bad right?  We all want our kids to be ready for college and careers don't we?  I personally think that the government should look into firing whoever shortened that lovely mouthful of a statement that most of us would readily embrace to the acronym PARCC.  I don't know about you but anything that rhymes with the real word park causes me anxiety (have you ever tried to parallel park 10 times with a screaming child in the backseat?  The word park caused flashbacks for me!).   Had it been shortened to something like PACCS (partnership for assessment of college and career skills) I'd be able to correlate this to pleasant experiences like packing for trips or packing for college…..I digress.
What does PARCC test?
PARCC is given at every grade level from 3-11.  In our elementary schools,  students will focus on Language Arts and Math.  The math section will focus on using math skills gained at each grade level in problem solving scenarios rather than straight forward math problems.  Visit http://parcc.pearson.com/practice-tests/math/ for more information and sample math problems.  Students in grades 3-5 will participate in 2 days worth of math during this first administration of the test.
The language arts section is broken into 3 days, with each day consisting of one section.  Students will both read for comprehension as well as read to gain information so that they can complete a short research based essay.  All sections contain a variety of question types. (see the graphic below for more information on question types)
How are my child's teachers preparing him/her for this?
Our way of teaching has been undergoing drastic changes over that last few years to prepare our students for these assessments.  First of all, we have implemented the Common Core State Standards which are the standards that these assessments are based on.  Secondly, our district has been focusing our efforts on increasing rigor in our classrooms by having students delve deeper into subject matter.  We have also incorporated technology into our lessons for years not only to prepare students for this assessment but also to help them develop skills that will help them throughout the rest of their school careers and into their adult lives.  This year, as PARCC is being implemented for the first time, we have been reviewing how to answer each type of question through lessons incorporated in our classes as well as workshops given to the students by the librarian and technology coordinators.  Classroom teachers have been reviewing how to read the questions thoroughly as well as strategies to eliminate known wrong answers.
What can I do to prepare my child?
First and foremost encourage your child to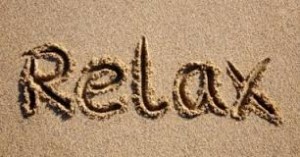 While this might seem impossible, if  we adults can present ourselves as relaxed and calm, the kids will pick up on these cues and relax.  Listen, I'm a busy mom, wife, full time teacher, part-time student- I know that this isn't always easy!  If you could limit stressful extras the week your child tests that would help everyone relax a bit.  In fact that is everyone's homework that week-  GO HOME AND RELAX!
Encourage a good night's sleep.  The chart below shows the suggested amount of sleep for the children in grades 3-5.  If possible encourage lights out and electronics off at a reasonable time to ensure that they are well rested for the coming day.
Have your child eat a HEALTHY breakfast.  While Frosted Flakes happen to be my favorite cereal, I know that they aren't the best option when I need to sit and focus for any period of time.  A good breakfast doesn't have to mean a restaurant quality spread.  It could be a bagel and cream cheese, toast and jelly, Cheerios or other cereals low in added sugar, yogurt, oatmeal, or fruit.
Dress your child comfortably.  I always encourage my students to wear a light weight sweatshirt (preferably a zip up) in case they get chilly.  Sweats or loose comfortable jeans and comfortable shoes will make sitting for extended periods more bearable.
Make sure they come to school prepared!  If they need glasses for reading or computer use, please make sure that they have them!   There is nothing worse than ending the test with a headache because your eyes ache!
We will provide your child with paper, erasers, and pencils!
Please feel free to  contact your child's teacher or school if you have further questions.  All we ask is that every student TRY HIS OR HER BEST!  That's the best anyone can ever do!